String Swing CC01K Guitar Hanger - Keeper
Features:
Our best-selling guitar hanger is the original String Swing guitar hanger created back in 1983, with a few minor improvements. The new design, known as the "Guitar Keeper", has a deep cradle design that prevents the guitar from being improperly placed into the hanger. This ultimately provides a safer hanger for your instrument, as the guitar needs to be lifted 2 inches and brought forward to be removed. The wood blocks that our guitar holders attach to are made of authentic North American hardwood that is handcrafted by local Amish. There are four species of hardwood available (Cherry, Oak, Ash and Black Walnut). Natural wood color may vary. The new Keeper design is great for guitars with single or uneven heels.
The deep, pivoting yoke prevents the guitar from being improperly placed in its hanger and allows for Bass, Electric and Acoustic guitar headstocks to be cradled perfectly while still hanging straight. This yoke may be too narrow for some classical and bass guitars, therefore we recommend purchasing the original CC01. The yoke that is included on this hanger is the SDY03. In this case, we recommend measuring the width of your guitar neck to choose the approriate yoke.
We simply added a "K" (for Keeper) to the end of the original product code to distinguish between the original CC01 and CC01K.
Trusted by over 10 million guitars around the world and backed with a lifetime warranty.
Made in the USA
Backed with a structural lifetime warranty
Mounting Hardware Included
| | |
| --- | --- |
| Model: | CC01K |
| Manufacturer: | String Swing |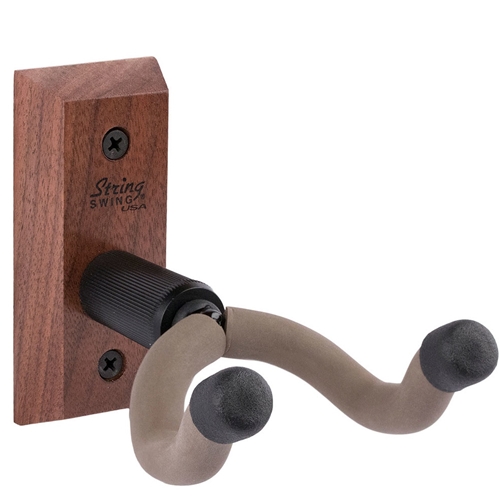 Ash Guitar Hangers
ae00-19301^CC01K-A
2.00 Black Walnut Guitar Hangers
ae00-19301^CC01K-BW
2.00 Cherry Guitar Hangers
ae00-19301^CC01K-C
2.00 Oak Guitar Hangers
ae00-19301^CC01K-O
2.00
---
Customer Reviews