Ukulele Lessons
All instructors are independent contractors who teach a wide range of styles, such as Hawaiian, Folk, and Contemporary.
If you are interested in learning about each instructor, feel free to browse their bios below.
PETER KETT — BEGINNING UKULELE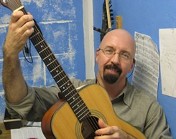 Prospective students should contact Peter directly.

Peter Kett, British born, emigrated to the U.S. in 1978 after a yearly stint of playing in the Paris Metro—a French rock band—and collecting addresses and phone numbers of American tourists. He has been playing guitar for over thirty years and teaching for twenty. In the mid-eighties he played in the British folk/rock duo Back to Front, and also with The Lunatic Fringe. He has three A.A. music degrees (Theory, Performance, and Songwriting) from SCC and is one recital short of a B.A. in music composition from CSUS with a minor in Classical Guitar which he hopes to complete in the near future. Pete teaches most styles but is particularly adept at folk, rock, blues and instrumental acoustic fingerpicking. He presently plays nylon string guitar and melodica with local world music group Fantacea. Pete also teaches beginning to intermediate electric bass and beginning ukulele. Email: [email protected]
KENNY MANLAPIG — UKULELE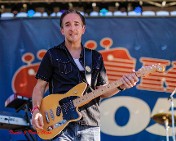 Kenny is not currently accepting new students.

Kenny Manlapig has been playing guitar for over 40 years, and has taught and played professionally for over 30 years. He graduated with honors from Sacramento City College, where he also served on the faculty. His thirty-plus years experience as a working musician includes performances at the Monterey Blues Festival, the International Pop Overthrow in Hollywood and in August, 2012 Kenny performed in front of sixteen thousand people at Country In The Park in Sacramento, sharing the stage with major country music acts. Kenny also plays guitar and sings with his band, The Stance. His guitar talents have also been featured in numerous musical theater productions throughout the Sacramento area, where his playing has been described as "outstanding" and "stellar". Besides performing live, Kenny has also recorded 2 CDs with UltraSuede and The Bandersnatch (with Greg Williams). For the 1999-00 and 2000-01 NBA seasons, he wrote and recorded the music used by the Sacramento Kings during the team introductions. For the 2001-02 and 2002-03 seasons, his music was used for the Sacramento Kings' radio and TV broadcasts. In April 2016, Kenny had the honor of leading the National Anthem at the final Kings game at Sleep Train Arena. He spent twelve years as worship team leader at Gloria Dei Lutheran Church and currently plays guitar at Good Shepherd Lutheran Church. Kenny has taught students of all ages, and has had tremendous success with children. Kenny also teaches beginning ukulele. Email: [email protected]
"My method is to teach the basics of note-reading and chording while covering the music, songs, and styles that each student finds interesting. It has to be fun." ~Kenny Manlapig
DAVID SHAPIRO — UKULELE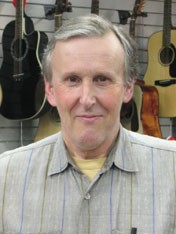 David Shapiro has performed, composed, arranged, toured around the world, and recorded with many artists for over forty years, including Capitol recording artists: The Norton Buffalo Stampede, Bonnie Raitt, Maria Mauldaur, Taj Mahal, Tower of Power, The Pointer Sisters, Hoyt Axton, Tony Rice, members of Jefferson Starship, Peter Rowan, Emmy Lou Harris, Dolly Parton, Elvin Bishop, Bela Fleck, and others. He was the house arranger for the Bay Area-based Suspex Records for many years. He worked with Jerry Garcia on the TV soundtrack to the 1980s "Twilight Zone" remakes. He has led several bands in Europe and the US, and Dave continues to play his original songs and music in Sacramento with West of Next and The Skeletons. He has played George Gershwin's music with several symphony orchestras on tenor banjo. He teaches many guitar styles, including jazz, country, rock, fingerpicking, flatpicking, and slide. David also teaches mandolin, four- and five-string banjo, lap steel, dobro, ukulele, songwriting, theory, and arranging. He enjoys teaching all students from beginners to advanced, ten years of age and older, Thursday-Saturday. He graduated Summa Cum Laude from the Berklee School Of Music with a B.A. in Composition. Email: [email protected]
GREG WILLIAMS — UKULELE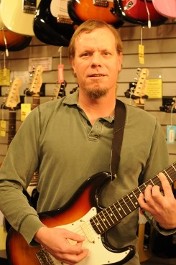 Greg Williams teaches guitar, electric bass, and ukulele. He has been playing guitar for over thirty years, and he has taught, performed and recorded professionally for over twenty-five years. Greg has earned a B.M. degree in classical guitar performance with Dr. Richard Savino, and a M.M. degree in composition with Dr. Stephen Blumberg at CSUS. Greg got his start in hard rock and heavy metal with Metal Blade recording artists Sentinel Beast. He has been awarded 3 SAMMIE awards for his work as leader of the jazz/rock band The Mind Club, and worked with his friend and fellow Kline's instructor Kenny Manlapig in folk/rock band The Bandersnatch. Greg's most recent solo CD is 2009's A Circle of Hidden Intentions, available on Magnatune records. Greg has performed in the United States, Canada, England, Scotland, Ireland and Wales. Greg will be performing in Germany in April 2012. Greg is the vice-president of the Sacramento Classical Guitar Society and director of the Sacramento Guitar Orchestra. Greg has been on the faculty of CSUS and Sacramento City College. Greg teaches all ages, from eight years old on up. Email: [email protected]