Band Instrument Repairs

Tom Hannickel
Musician, Repairman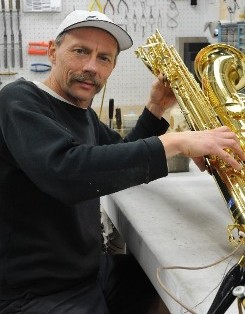 Tom Hannickel fixes band instruments of all shapes and sizes, from piccolos to sousaphones. He has provided band instrument repairs at Kline Music for over thirty-five years, greatly contributing to our reputation for excellence.
Tom keeps a meticulous shop, leading customers to note that his precision is indicative of his work. His repairs range from cork replacement to full repads, while his dent-work begs the question: "where was the dent?" Some other common fixes include trombone slide repair, crack-pinning for wood instruments, and trumpet valve casing. Tom will give you a free estimate for the repair of your instrument.
Please call ahead for information on Tom Hannickel's in-store hours prior to visiting.
The following list is a price reference for common instrument repairs. For an accurate price quote please drop off your instrument and Tom will call you with an assessment.





*Actual prices will vary depending on what repairs are needed.
| Case Repairs | Price |
| --- | --- |
| Case Latch or Hinge | $25.00 |
| Case Handle | $30.00 |
| Case Reinforcing Bracket | $25.00 |
Woodwinds
Service
Price
Clarinet
Playing Condition
$40.00 + $14.00 per pad
Flute and Piccolo
Playing Condition
$90.00 + $14.00 per pad
Alto, Tenor and Soprano Sax
Playing Condition
$90.00 + $18.00 per pad
Baritone Sax
Playing Condition
$120.00 + $20.00 per pad
Alto and Bass Clarinet
Playing Condition
$90.00 + $18.00 per pad
Oboe
Playing Condition
$70.00 + $14.00 per pad
(Cork Pads $28 each)
Bassoon
Playing Condition
$90.00 + $18.00 per pad
| Woodwind Repairs | Price |
| --- | --- |
| Tennon Corks | $25.00 |
| Bass Clarinet Tennon Corks | $35.00 |
| Bassoon Tennon Corks | $35.00 |
| Flute/Piccolo Tuning Corks | $20.00 |
| Sax Neck Corks | $30.00 |
| Springs | $20.00 |
| Crack Pinning | $50.00 per Pin |
| Refit Flute/Piccolo Head Joints | $25.00 |
| Refit Foot Joint Tennons | $15.00 |
| Refit Sax Neck Tennons | $40.00 |
| Clarinet Middle Tennon Replacement | $200.00 |
| Sleeve Broken Bell Tennons | $70.00 |
| Bonding Broken Plastic Body | $35.00 - $70.00 |
| Clarinet Key Transfer | $90.00 + $14.00 per pad |
| Fabricate Oversized Thumbrest Screws | $25.00 |
| Brass | Service | Price |
| --- | --- | --- |
| Trumpet | Playing Condition | $70.00 |
| Cornet | Playing Condition | $70.00 |
| Trombone | Playing Condition | $45.00 |
| Bass Trombone | Playing Condition | $70.00 |
| Baritone Horn | Playing Condition | $90.00 |
| French Horn | Playing Condition | $90.00 |
| Tuba | Playing Condition | $90.00 |
| Brass Repairs | Price |
| --- | --- |
| Soft Solder Joints | $25.00 |
| Silver Solder Joints | $40.00 |
| Valve Casing Repairs | $50.00 |
| Lap Valve | $25.00 |
| Restring Rotary Valve | $15.00 |
| Clean and Restring Rotary Valve | $30.00 |
| Clean, Restring, Regulate Rotary Valve | $45.00 |
| Regulate Piston Valve | $25.00 |
| Trombone Slide Repair | $70.00 |
| Trombone Slide Bumper Corks | $15.00 |
| Pull Stuck Slide | $25.00 - $50.00 |
| Patching | $50.00 |
| Waterkey Springs | $20.00 |
| Waterkey Corks | $5.00 |
| Instrument | Service | Price |
| --- | --- | --- |
| Plastic Clarinet | Complete Repad #1 | $450.00 |
| Wood Clarinet | Complete Repad #1 | $500.00 |
| Flute and Piccolo | Complete Repad #2 | $500.00 |
| Open Hole Flute | Complete Repad #2 | $600.00 |
| Alto, Tenor and Soprano Sax | Complete Repad #3 | $1000.00 |
| Baritone Sax | Complete Repad #3 | $1500.00 |
| Alto Clarinet | Complete Repad #1 | $750.00 |
| Bass Clarinet | Complete Repad #1 | $900.00 |
| Oboe | Complete Repad #1 | $750.00 - $1000.00 |
| Bassoon | Complete Repad #1 | $1100.00 |
| Complete Repad #1 | Complete Repad #2 | Complete Repad #3 |
| --- | --- | --- |
| Includes tennon corks, key corks, pads, refitting of worn key mechanisms, cleaning of body and polishing of keys and posts. Wood instrument bodies are oiled. | Includes refitting of joints, dent removal, key corks, pads, refitting of worn mechanisms, tuning cork and polishing of body and keys. | Includes fitting of neck, dent removal, neck cork, key corks, pads, refitting worn key mechanisms, cleaning of body and polishing of plated keys. |