Brass Lessons
**All instructors are independent contractors**

JEREMY BOLT — ALL BRASS INSTRUMENTS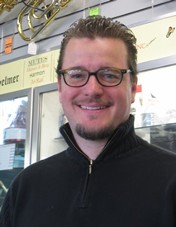 Jeremy Bolt taught brass players of all levels since 1991. His individualized approach, teaching philosophy, and broad musical background help nurture the "whole" musician. He holds a B.M. from Berklee College of Music where he was awarded both the Berklee Winds Scholarship for performance and the Peter Kaleta Scholarship for composition.

A specialist in the Broadway musical, Jeremy has performed in over thirty-five pit orchestras, and has served as musical director for productions on both coasts of the USA. Currently he is the lead trumpet and horn arranger/transcriber for Chicago Tribute Authority, based in Sacramento.
Prospective students should contact Jeremy directly.
Email: [email protected]
**All instructors are independent contractors**