Accordion Lessons

All instructors are independent contractors who teach a wide range of styles, such as swing, polka, and klezmer.
If you are interested in learning about each instructor, feel free to browse their bios below.
MARK CARLSON — ACCORDION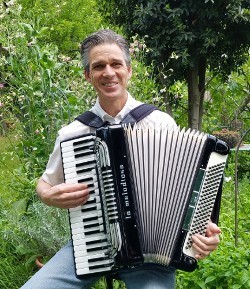 Mark Carlson teaches keyboard accordion. He began his music studies in elementary school, playing a variety of instruments since then, but mainly focusing on the piano and the accordion. He learned to play the accordion at Kline Music under the guidance of Dave Chelini. Mark started giving private accordion lessons, before Dave asked him to begin teaching at Kline. He has performed at private and larger group celebrations, while also appearing in local restaurants with a repertoire ranging from Oktoberfest polkas, eastern European songs, and French musette to gypsy jazz, American swing/jazz, Italian melodies, and more. Mark tailors each lesson to meet the student's goals. He promotes good technique with effective practice methods. Mark strives to make learning music enjoyable, so that its lifelong rewards can be shared with his students. All ages welcome.
Email: [email protected]