100 Solos - Violin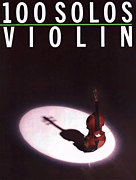 Features:
Graded solos for players of all standards. The pieces are complete in themselves and require no accompaniment. Includes: An Affair to Remember • Für Elise • Chitty Chitty Bang Bang • Hey Jude • Love Me Tender • Mexican Hat Dance • Sing • Thank You for the Music • Why • Wooden Heart • and more.
Table of Contents:
Carnival Of Venice

Humoreske

Popcorn

Andante

Turkey In The Straw

Celeste Aida

Barcarolle

William Tell Overture

The Happy Farmer

Blue Danube

Mexican Hat Dance

Jealousy

Morning Has Broken

Lady

Arrivederci Roma (Goodbye To Rome)

As Long As He Needs Me

Imagine

Come Back To Sorrento

Emperor Waltz

The Ballad Of Davy Crockett

La Paloma

Cielito Lindo

Hasta Manana

Be Back Soon

Beautiful Dreamer

The Drunken Sailor

Bibbidi-Bobbidi-Boo (The Magic Song) Scarborough Fair

Sailing

I Don't Know How To Love Him Consider Yourself

Drink To Me Only With Thine Eyes Old Ned (Theme From Steptoe And Son) Who Do You Think You Are Kidding Mr. Hit Some Enchanted Evening He's Got The Whole Wor

Days Of Wine And Roses

La Cucaracha

Strangers In The Night

Edelweiss

How Can I Tell You

Liebestraume

The Unfinished Symphony

Danny Boy/Londonderry Air English Dance

Mona Bone Jakon

Lillywhite

Fiddler On The Roof

Food, Glorious Food

The Fool On The Hill

Saber Dance

The Hawaiian Wedding Song (Ke Kali Nei Au) I'd Like To Teach The World To Sing Knowing Me, Knowing You Love Me Tender

Love's Old Sweet Song

Michelle

Mockin' Bird Hill

Norwegian Wood (This Bird Has Flown) Oh, What A Beautiful Mornin' Oom-Pah-Pah

Penny Lane

Pick A Pocket Or Two

Puff The Magic Dragon

Return To Sender

Reviewing The Situation

Sea Of Heartbreak

Serenade (Ständchen)

Sgt. Pepper's Lonely Hearts Club Band (Reprise) She Loves You

She's Leaving Home

Soldier's March, Op. 68, No. 2 (Soldatenmarsch) Rivers Of Babylon

Minuet

Smile

Waltz

Intermezzo

Theme from Concerto No. 1

Second Piano Concerto: Theme Volga Boatmen's Song

Minuet In G

Soldier's March (Soldatenmarsch) Strawberry Fields Forever The Surrey With The Fringe On Top Thank You For The Music

(Theme From) A Summer Place When I'm Sixty-Four

Where Have All The Flowers Gone? Where Is Love?

Who Will Buy?

With A Little Help From My Friends The Wonder Of You

Wooden Heart

You Never Done It Like That

Little Boxes

Love Theme from Romeo and Juliet Country Gardens (English Dance) Largo From Symphony No. 9 ('New World') Narcissus (Nevin E)

Romeo And Juliet

Cielito Lindo (My Pretty Darling)

English Country Garden

La Paloma Blanca (The White Dove) Emperor Waltz, Op. 437

Soldier's March (Soldatenmarsch), Op. 68, No. 2


| | |
| --- | --- |
| Catalog: | HL14036716 |
| Publisher: | Music Sales |
| Composer: | |
| Artist: | |
| Arranger: | |
| Voicing: | Violin |
| Level: | |
| Pages: | 96 |